About us
IT'S BEEN NEARLY 30 YEARS...
Our meat processing plant was established as a sole proprietorship in 1993. Our main business is processing and selling pork and beef. We produce and sell traditional and HOME-STYLE products from 100% Hungarian meat. Our products prepared with handmade technology keep their home-style character and flavour. We only add salt and natural spices to our products, they are made with traditional curing and traditional smoking without adding artificial additives or flavour enhancers. In 2019, our business was reformed and became a Kft. (limited liability company). By building on our experience of processing and selling, we are constantly seeking to meet the needs of our customers and partners.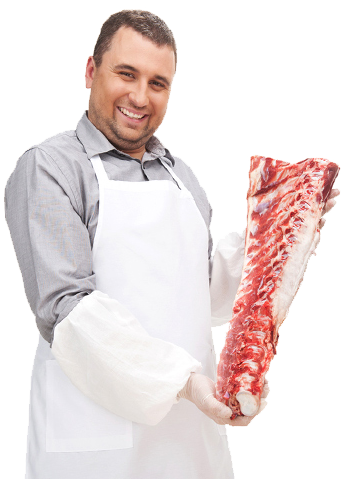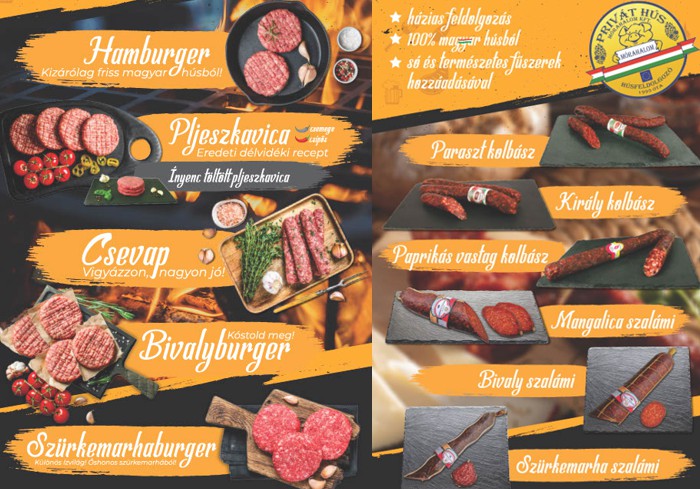 Butchery products from 100% Hungarian meat
At Priváthús Mórahalom Kft., we offer a beautiful and tasty, constantly expanding and renewing range of products. Our customers and partners can choose from sheep, beef, buffalo, Hungarian grey steppe cow, turkey, pork and free-range chicken products that we offer in excellent quality.
If you are a meat-lover, we encourage you to try our products for grilling. You can choose from fresh burger patties made from Hungarian meat, pljeskavica (normal and spicy), tasty csevapcsicsa rolls, special buffalo and Hungarian grey steppe cow burger patties. We suggest that you also try our traditionally prepared sausages and salamis made from 100% Hungarian meat and seasoned with natural spices.
We are proud that our handmade products are part of the "Védd a hazait!" initiative, which means they are made from 100% Hungarian meat, and come directly from a Hungarian producer.
We offer a whole host of
tasty products
Priváthús is waiting its meat-lover customers with a wide range of products in several butcher shops in Mórahalom, Ásotthalom, Algyő and Szeged. Our butchers offer the best and tastiest sucking pig, pork, beef and chicken in our shops. We sell the most delicious pork neck, ribs and hock, but you can also purchase the most beautiful free-range chicken at our shops. If you are fond of red meat, we recommend that you choose from our fresh beef selection. For those who enjoy grilling in the garden, we prepared sausage for grilling in various flavours, csevapcsicsa rolls and pljeskavica in our processing plant. We offer smoked meat products with the most appetizing smell, pre-cooked and filled products. We are waiting our dear customers in Szeged, Algyő, Ásotthalom and Mórahalom.

Priváthús Mórahalom Kft. has five butcher shops in Csongrád-Csanád county, where we are waiting our dear customers. We offer the most delicate lean meat, salo, salami and sausage in Szeged, Mórahalom, Algyő and Ásotthalom. One of our aims is to expand our business, so hopefully we will open new shops in the upcoming period. We would like to be present in more towns in Csongrád-Csanád county in order to make our delicious products available at various places. At present, we have a shop in Mórahalom, at Szegedi út 92. and we have two shops in Szeged. In Szeged, our customers can find us at the Mars tér market, in the Anna-hall, and also at Csaplár Benedek utca 4. We also opened our newest butcher shops in Algyő, at Kastélykert utca 8. and in Ásotthalom, Királyhalmi utca 28.
All customers are welcome.

A photo gallery of
our products
The butchers at Priváthús are proud to be exigent and precise and they present the products processed and prepared by them with pride. We would like to demonstrate by this gallery the fact that you can find exclusively fresh products at us. While viewing this gallery of the products made by us, we are sure that everyone will find something pleasing. Appetizing smoked ham, filled products, products made from minced meat, boiled salo, tied meat, all kinds of pork, beef and chicken as far as the eye can see.
Visit us in Szeged, Algyő, Ásotthalom or Mórahalom, and check the high quality of our products yourself.